WELCOME
BRETT SCHULZ
ARCHITECT, PC
COMMERCIAL PROJECTS
We may be the team behind the design of your favorite place to unwind, rendezvous with friends or try the latest seasonal cocktail. Our commercial work is at the heart of our commitment to being connected to the communities where we build.
MULTIFAMILY PROJECTS
As more people worldwide move to cities, architects are increasingly challenged to solve problems of living well in tight spaces. We will continue advocating for, building, and designing affordable housing while maintaining attention to details and sustainability.
non-profit & homeownership PROJECTS
Home ownership, at the townhouse scale, helps mitigate and prevent involuntary displacement by assisting first time home-owners with financial assistance, education and affordable financing.
Tree Farm Tree Talk
The Seattle Daily Journal of Commerce recently talked with our own Ben Carr about the design process to get approval for Tree Farm - a new commercial building covered in strawberry trees. Spoiler — it's not easy.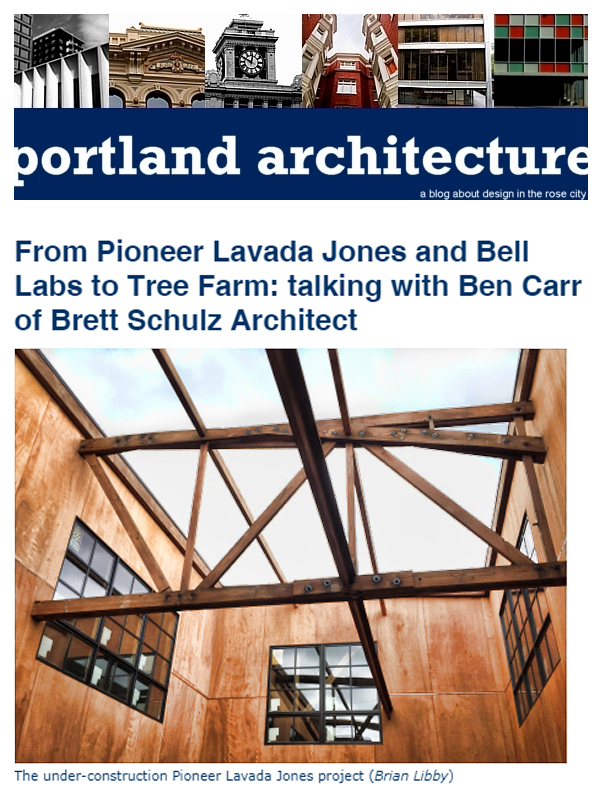 Portland Architecture
Featured profile in Brian Libby's blog - Portland Architecture.
Journalist and author Brian Libby sits down with Ben Carr to discuss Portland architecture, shared visions and unique beginnings.
Canopy Stories
Panel Discussion Featuring Ben Carr
Come see our very own Ben Carr on the panel discussing our upcoming project Tree Farm — part of Canopy Stories, a 12 film anthology about people, place, and trees in Portland.
When: July 10th @ 7pm
Where: Cinema 21
Dwell Magazine's 10 Best Designed Places to Eat and Drink in Portland.
HAN OAK.
"Han Oak's space was designed by Brett Schulz Architects, and evokes the spontaneity and approachability of the ever-evolving menu." -- DWELL MAGAZINE
We couldn't be more proud. Click here to read the article.
"Developers built 7,300 units of new housing in Portland in 2017, but most of those units come with high price tags. Brett Schulz's goal is to build housing that's affordable to low-income Portlanders."
-Whitney Gomes — Bridgeliner
Watch Brett discuss a unique model for affordable housing.
Maya Lovelace's long awaited Yonder opens in Cully
-Look Inside the Haint Blue Fried Chicken Haven That Is Yonder -
Eater Portland
The blue is a nod to the classic porch ceilings in the South, meant to ward off evil spirits and blend in with the sky. The restaurant goes even farther with the sky motif with a cloudy mural by local artist Ezra Butt, one of co-owner Zach Lefler's childhood friends.
Food For Thought
Many of our mixed-use projects include bar or restaurant tenants. In the last few years, we've ramped up our involvement in the vibrant Portland dining scene by designing some of these unique establishments. We've been lucky enough to have as clients (and friends) some of the best chefs and restaurateurs in the city.
Build With Us
Our firm embraces a team philosophy, with a design process driven as much by client collaboration as architectural experience. We are passionate about design, about people, and about the environment around us, and we bring that passion to seeking a unique solution for each project and client. We approach each opportunity with open minds and without a preconceived notion of what should be. Whatever the particular program or design intention, we hope to create something timeless, a project that transcends stylistic trends, and reflects the best intentions of the team that conceived and created it.